Commercial Marine Structures
Dock structures at marinas and commercial structures require solid construction to support the heaviest of pedestrian traffic, commercial use, and vessel mooring of all sizes. Innovative Marine Structures engineers all projects to insure that marina and commercial customers' reputations are upheld to not just an aesthetically pleasing look to the structure, but – more importantly – a solid foundation and construction to support the stress from vessel traffic that will be demanded from the dock structures as well.
Call us today at 941-697-7000 for your FREE consultation
We team up with reputable partners across Florida to provide good looking, yet functional designs, engineered strength to support whatever the demand, marina start up services, as well as marina management services for already existing marinas.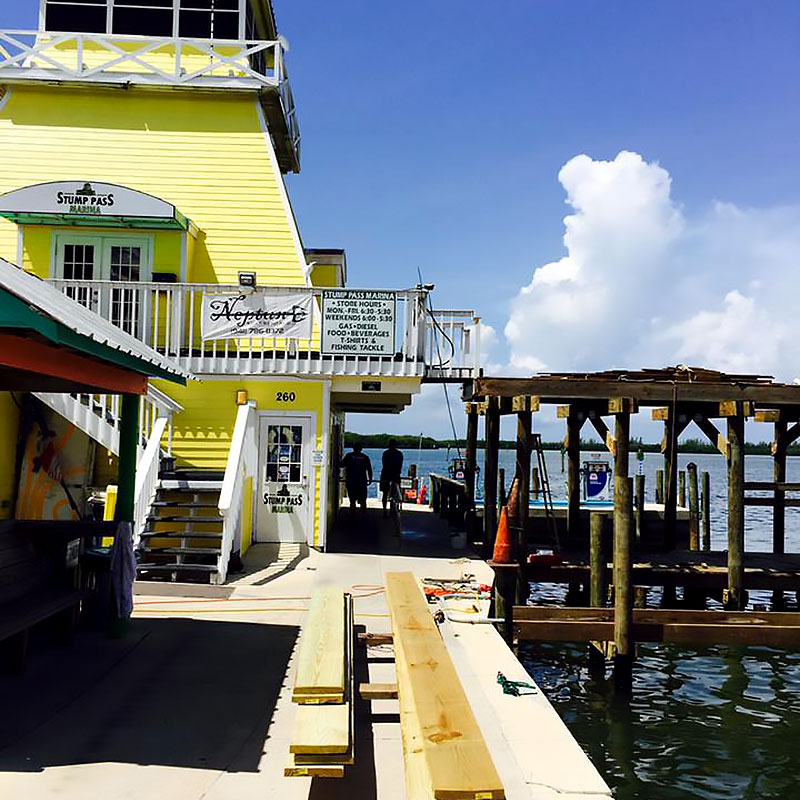 Attention to detail …is the phrase that best summarizes our company as a whole. We emphasize quality construction by:
Driving pilings to insure that the dock doesn't settle or lift during inclement weather.
Through bolting piling caps for maximum strength instead of lag bolting or nailing.
Screwing down decking to eliminate nail pops and minimize warping decking.
Installing hurricane clips on all roofing structures.
Always using four stringers across a 5′ wide dock walkway.
Utilizing either continuous poured and reinforced concrete footers or driven pilings to tie back bulkhead.
Many of our customers may not know the best construction practices when they begin planning and building their project. We work with our customers to explain why it's important to incorporate quality construction practices to support a quality looking completed marine structure. We believe that we stand alone providing the best customer service in the industry.
Examples of services we provide beyond the actual construction include:
Simple, clear, concise, and bilateral construction project agreements so that all details of the project are understood by both parties.
Continued and open communication with our customers so that all questions are answered.
Weekly status emails are sent outlining where the project stands and what to expect next.
Flexible project payments so the customer never feels like we try to get ahead of them throughout the project. For example, we never request the down payment until the material arrives at the job site.